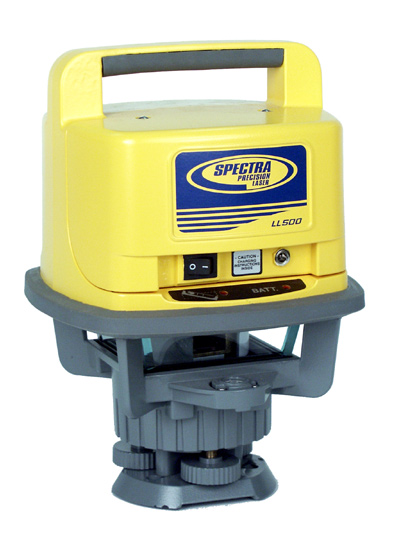 Spectra Precision was the first one "out of the gate" in the early 80s with an affordable Laser level, the ubiquitous EL-1, and its Laserplane successors. The current version of this construction industry benchmark is the LL500. This familiar design meets your toughest accuracy requirements. Simply "rough level" the 3-screw leveling base with the circular bubble, and you're ready to go! The LL500 has a 1600 foot working diameter, and delivers an accuracy of +/-1/16" at 100 feet. A built-in "out of level" shut off insures accuracy, and the unit may be powered with either standard alkaline or optional Ni-Cd rechargeable batteries. An added plus, the LL500 comes with a 2 year "use and abuse" waranty! The HR500 receiver provided as standard equipment with this model is loaded with features. You get dual-sided photocells, a 15-channel LCD with "offset" scale, simultaneous LED display, and a waterproof magnesium housing. The HR500 also comes with a generous 2 year warranty!
SPECTRA PRECISION LL500, with case, HR500 receiver, and akaline batteries...............$1395.00
SPECTRA PRECISION LL500, as above, but with charger and Ni-Cd batteries...................$1475.00
INTERNET SPECIAL: purchase either package with your check or credit card, and get a free tripod!!!