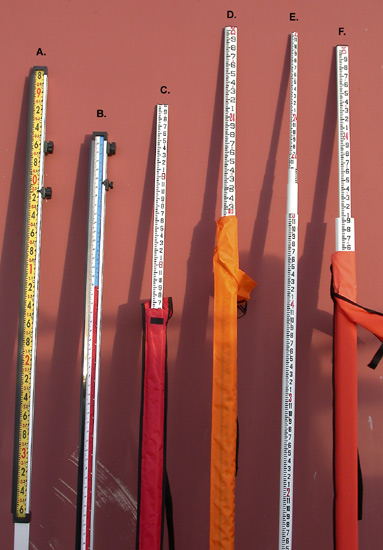 SOKKIA SK FIBERGLASS ROD
The Sokkia SK fiberglass level rod has been around seemingly forever, and it's the one people ask for by name ("D" in the photo). The unique patented oval shape permits easy viewing of the graduations, prevents rolling, and is easier to hold. The numerals and graduations are scratch-resistant and sized for maximum readability. The SK rod is made from sturdy, corrosion-proof fiberglass and is lightweight and easy to carry, and won't warp or swell. The back of the rod has a convenient height measuring gauge, and the top section has a 5/8/11 threaded hole to allow for attachment of a prism. Carrying case included.
#8073-47 SOKKIA SK rod, 25-foot, tenths, w/carrying case.....................................$169.00
#8073-57 SOKKIA SK rod, 7 meter, metric, w/carrying case.....................................$169.00
#8073-37 SOKKIA SK rod, 25-foot, 8ths, w/carrying case.....................................$169.00
LR-PRO 35' FIBERGLASS ROD BY CRAIN ENTERPRISES...THE BIG ONE!!
Sure, some may say that "size doesn't matter", but there are times when you need a tall heavy duty rod. LR-PRO series fiberglass rods are strong, waterproof, corrosion-resistant, and nonconductive. Their round shape gives added strength and handles better in windy conditions than oval or rectangular-shaped rods. The rod sections telescope smoothly from a sturdy base and are tightly fitted to minimize sway when extended. A positive locking mechanism of spring-loaded buttons locks the sections into position. The scale graduations are easy to read, wear-protected, and glare-resistant. A 5/8 x 11 threaded female adapter is provided in the top section, and a nice carrying case is standard equipment. There are a couple of different sizes available (10ths & 100ths only), but we stock the 35-foot version on a regular basis. (Item not pictured; but similar to "E")
LR-PRO 35' Fiberglass rod by Crain Enterprises, w/carrying case............................................$412.00
ALUMINUM LEVEL RODS BY SECO and KJ
("C" in the photo) Rugged and easy to read, these aluminum level rods come out of the very same factory as those sold by some of the big names in survey supply products. The multiple sections slide easily and lock firmly in to place. The rods collapse to a very compact size, and are available in a variety of graduations (feet/10ths, feet/8ths, and metric) to suit your needs. Graduations are scratch-resistant and easy to read. Aluminum rods don't warp like the old wood types, and are much more affordable. A carrying case and rod level are also included with each rod.
10-foot aluminum rod w/case and rod level.............................................................................$40.00
13-foot aluminum rod w/case and rod level.............................................................................$45.00
16-foot aluminum rod w/case and rod level.............................................................................$55.00