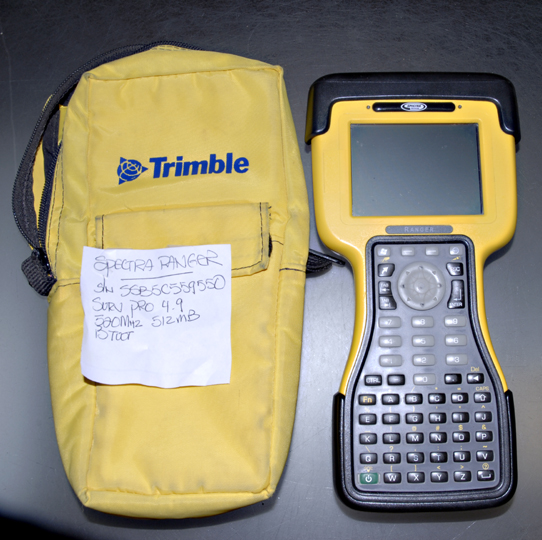 Microsoft Windows Mobile 5.0
53 tactile key alphanumeric keypad, 8 position spider key
Touch-screen
Battery life of 30 hours under normal operating conditions
Complete recharge in 4.5 hrs (80% in 2 hrs)
Battery charge status LED indicator
Notification LED
Rugged polycarbonate shell
Integrated speaker and microphone
520 Mhz processor
512 Mb on board flash storage
Survey Pro software installed and activated!
Internet Explorer, File Explorer, Word Mobile, Power Point Mobile, Excel Mobile, Outlook Mobile, Windows Media® Player Mobile, Microsoft ActiveSync¢ç technology, Microsoft Transcriber (handwriting recognition), Pictures, Picture & Videos, Calendar, Contacts, Tasks and Notes
The Spectra Precision Ranger 500 is in very good condition, and fully functional. It has Bluetooth but no WiFi or radio. Ports: 9-pin serial and USB client/host. Includes soft case (as pictured), stylus, and charger. Battery is in good condition. Screen is clean! 90 Day warranty. Just $899.00

NOTE: we are authorized Ranger dealers. We can update the Survey Pro and/or activate additional modules if you wish. Contact us for price.

Call (562-426-1306) or write for more info!